People love to play games and spend their leisure time having some fun. So, through that, they can release the stress and refresh their minds. However, it is the time of Blockchain NFT Play to Earn Games where players can earn cryptocurrency or digital assets that they can trade for real money.
You might have heard about the NFT that stands for Non-fungible token. There are thousands of NFTs that have been launched on different blockchains. So, these tokens can be used for multiple purposes such as for games, copyright ownership, and to show off.
There are so many people who want to keep their money in multiple forms. Some people invest it into stocks, property, and so on. Meanwhile, there are the wealthiest people who buy expensive cars, paintings, and so many other things that they can use to show off.
However, in this article, I am going to discuss NFT Play to Earn Games. I have prepared a list of some such games that you can play and earn thousands of dollars.
What is Blockchain or Play to Earn Games?
You might have heard about Blockchain technology. In simple, it is a technology or a system that records the information and data. That data cannot be changed or edited once it records. Further, there are multiple kinds of blockchains that have different features but the functions are the same.
So, the Blockchain games are the games that allow players to earn cryptocurrency or NFTs. They work on cryptography Blockchain technology. These games are rare and a very limited number of them offer players to earn. However, there are so many scams and fraudulent games.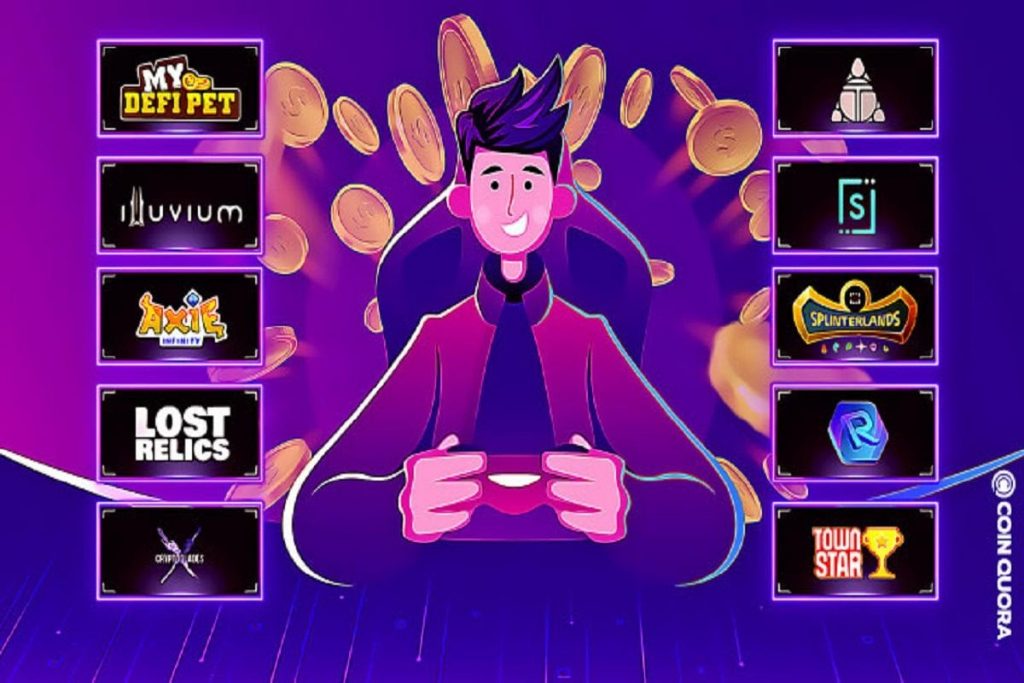 Therefore, it is quite risky to jump into this world without having any kind of knowledge about projects and cryptocurrency. Moreover, these games are mostly paid, so, you need to invest some money or crypto into them in order to play and earn money.
Basically, these games allow you to earn NFTs as well as cryptocurrency. So, you can use them in the game to play more and earn more. Meanwhile, the crypto tokens can be traded on centralized as well as decentralized exchanges.
There are certain tokens that you can sell or buy on centralized exchanges. Meanwhile, most of them are available on different kinds of decentralized exchanges. Therefore, it is quite difficult and tricky to buy such tokens. Sometimes, people lose all their money due to these difficult processes.
The money you lose from sending to wrong addresses is irreversible. Therefore, you must do your own research and always put a small amount of money into such games. So, here I am going to share the list of such games with you. Some of them are available while some will be launched soon.
Illuvium
Illuvium is one of the most expensive gaming projects that is based on the Ethereum blockchain. It is offering a huge platform for gamers to play multiple kinds of games and earn NFTs. Moreover, players can earn crypto tokens.
These tokes are tradeable and you can make thousands of dollars by playing the games on this platform. Illuvial are the creatures that you are will have to fight against. You will have multiple kinds of items such as skins, weapons, and many other items.
So, you can buy and sell these items to make lots of money. You will get the reward either in tokens or NFTs. Later you can redeem or sell these tokens directly in any exchange. So, in reward, you can earn USD or cash that into your own currency if available.
Star Atlas
Star Atlas is another blockchain game. You will definitely get a chance to play this game in 2022 as it is not officially launched. But you can visit their official website and check out some of the glimpses of the project. This can be one of the best and high-end graphical games ever.
The game is based on ultra-realistic graphics. It is all about the space or space battles where you will get a realistic view of the universe or space. You will get different kinds of characters, skins, weapons, and many more in the shape of NFTs. You can simply buy or sell them to play and also to make money.
Battle of Guardians
Battle of Guardians is another play-to-earn game that will be launched soon in 2022. This game is based on Solana Blockchain. It is going to be one of the best real-time multiplayer games. You can buy and sell NFTs. Further, you can use them in the game.
It is offering ultra-realistic graphics, PvP Mode, and is based on Solana technology. So, these are some of the measure reasons for adding this game to my list. Because it shows that this project is strong, exciting, and trusted.
RaceFi
Racing games are more popular than any other gaming category. Therefore, RaceFi can be one of the best and most thrilling projects in the field of Blockchain NFT Play to Earn Games. Because of the entertainment along with an opportunity to earn crypto and NFTs.
The major features of the game include multiple game modes, NFTs, PvP, PvE, and a few more. I think these are the measure features that every gamer wants to have in any game. Moreover, players can try expensive sports and luxury cars.
Axie Infinity
Axie Infinity is one of the most famous and trending play-to-earn games. You can play this game on Android, Desktop, iOS, and a few other platforms. It is based on the Ethereum blockchain. Therefore, it is quite expensive to invest and play.
But you can get scholarships and play for the investors or the person who has given you a scholarship. So, the earnings will be distributed as per the rules of the investor. You have different Axis that you can buy, grow, and participate in battles.
This is not new and already available in the market. But this is a whole project that is working on some other Metaverse and NFT games. So, in 2022, you are going to have more amazing games that will give your huge returns and profits. That is why I have added this game to the list.
Conclusion
These are some of the trending and most trusted NFT Play to Earn Games or projects. These are mostly based on Ethereum and Solana, therefore, these are trustworthy. You can also visit downloadpipe to know more about the games that are offering you a platform to earn cryptocurrency.