Looking for Textsheet and its alternatives? Congratulations! you are at the right place.
Textsheet was a valuable and emerging tool for students of every age group in the past couple of years. It was like a giant database, which had homework solutions, solution books for textbooks, and much more.
Mostly it was used to view homework and textbook solutions around the world. Textsheet.com was popular due to its ease of use and simplicity.
Moreover, the homework solutions on the website were free as compared to many other popular repositories. This website soon gained popularity and became one of the most used academic websites on the entire internet. But, unfortunately, soon it came down! And now, many other homework and textbook solution alternatives like Course Hero, Slader, or Studocu, are in use.
Note
Some of the TextSheet Alternative links may not open/work because they require a VPN/VPS to work in your region.
Our Best Picks For TextSheet
What happened to the Textsheet?
Unfortunately, Textsheet came down and is no more in a working state. The reason is that it violated the rules and standards set by the Digital Millennium Copyright Act (DMCA).
An American educational company Chegg accused them of Copyright infringement. Chegg is a paid website and, they claim that Textsheet.com uses it to copy homework and textbook solutions from them and upload those on their website.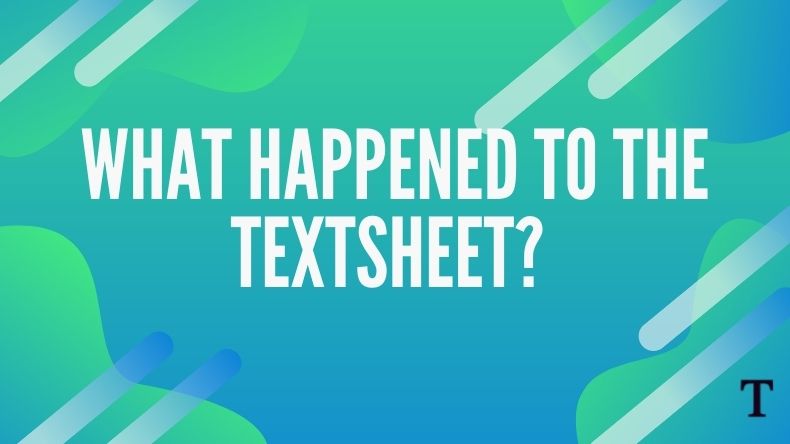 Because of this copyright infringement claim, this website was removed from the server on the order of higher authorities, and soon its website was shut down.
But, if you are a student and are worried about the fact that your favorite solution provider is not working, we have got you covered! This article dives into the best alternatives and Textbook solution providers.
Sites Like Textsheet (Video Guide)
Here's a video guide explaining sites like textsheet:
Top 11 Textsheet Alternatives for students
After the shutdown of the Textsheet, students have still got some back. Several websites provide the same services and even services in some cases.
In this article, you will run down a list of the best alternatives that are helping students with their homework and other studies. The Top 5 Homework and Textbook Solution Provider platforms for students are as below.
1. Course Hero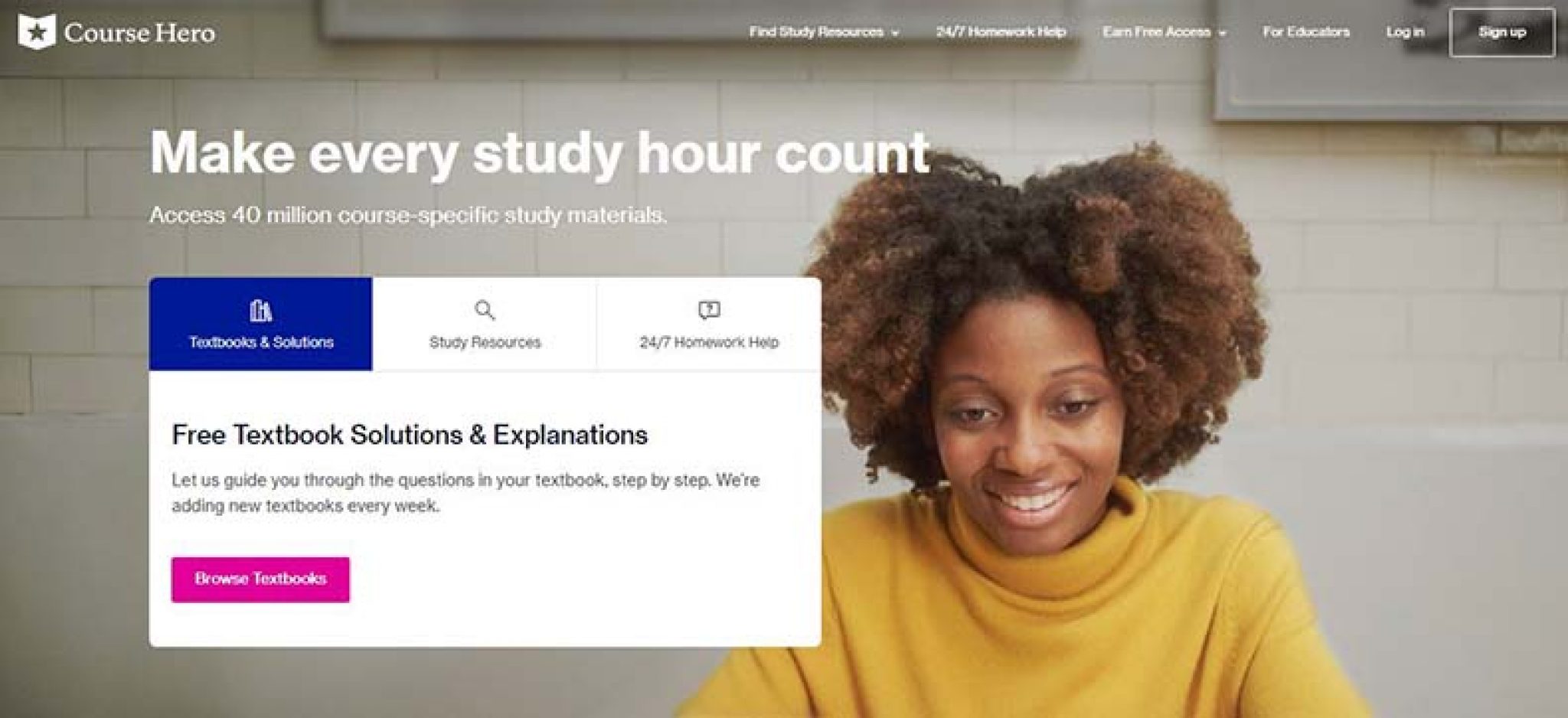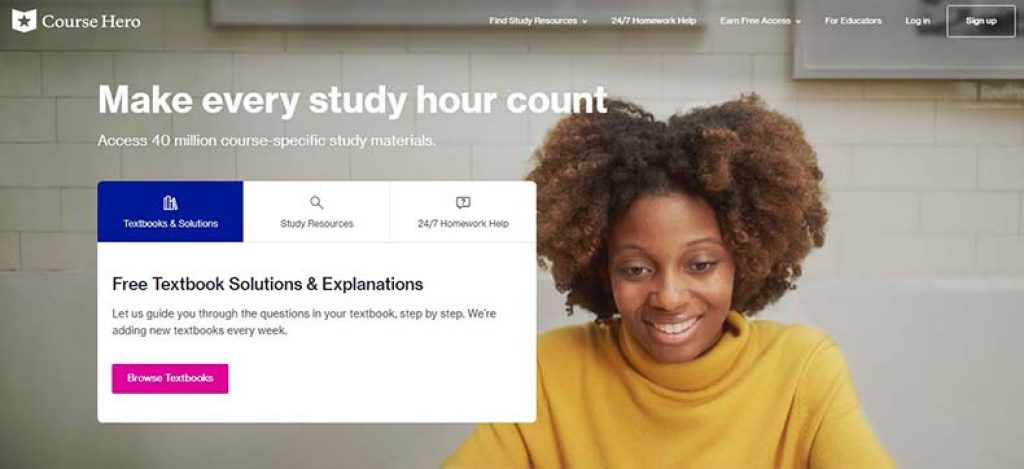 Founded in: 2006
Paid / Unpaid: Paid service
Though Course Hero is a paid website, it offers a lot of facilities for free to its users. Students can view free solutions from more than 300 textbooks on different topics. Most importantly, these books contain about 85 Biology books and 82 Math books, which are prime topics these days.
Moreover, every student can ask for free answers to a maximum of five questions. The experts will view the homework question and try to respond as soon as possible. The average responding time of experts is 10 mins.
On course Hero, every user of the student can contribute to its repository. Students who find solutions to specific homework problems can upload them on the Course Hero website. New users need to sign up and start searching for the required answers.
You can avail of the premium plan of Course Hero by paying a certain amount of money. Annual charges of a Course Hero plan are less than the total monthly payments of a year. If you are thinking of availing of the premium plan of Course Hero, you are on the right path.
Spending less than $10 per month on it will be worth it. Also, the prime aspect of this website is that the experts are available 24/7 for help. If you are stuck in the middle of an assignment, with a deadline in an hour, Course Hero will cover you up!
2. Slader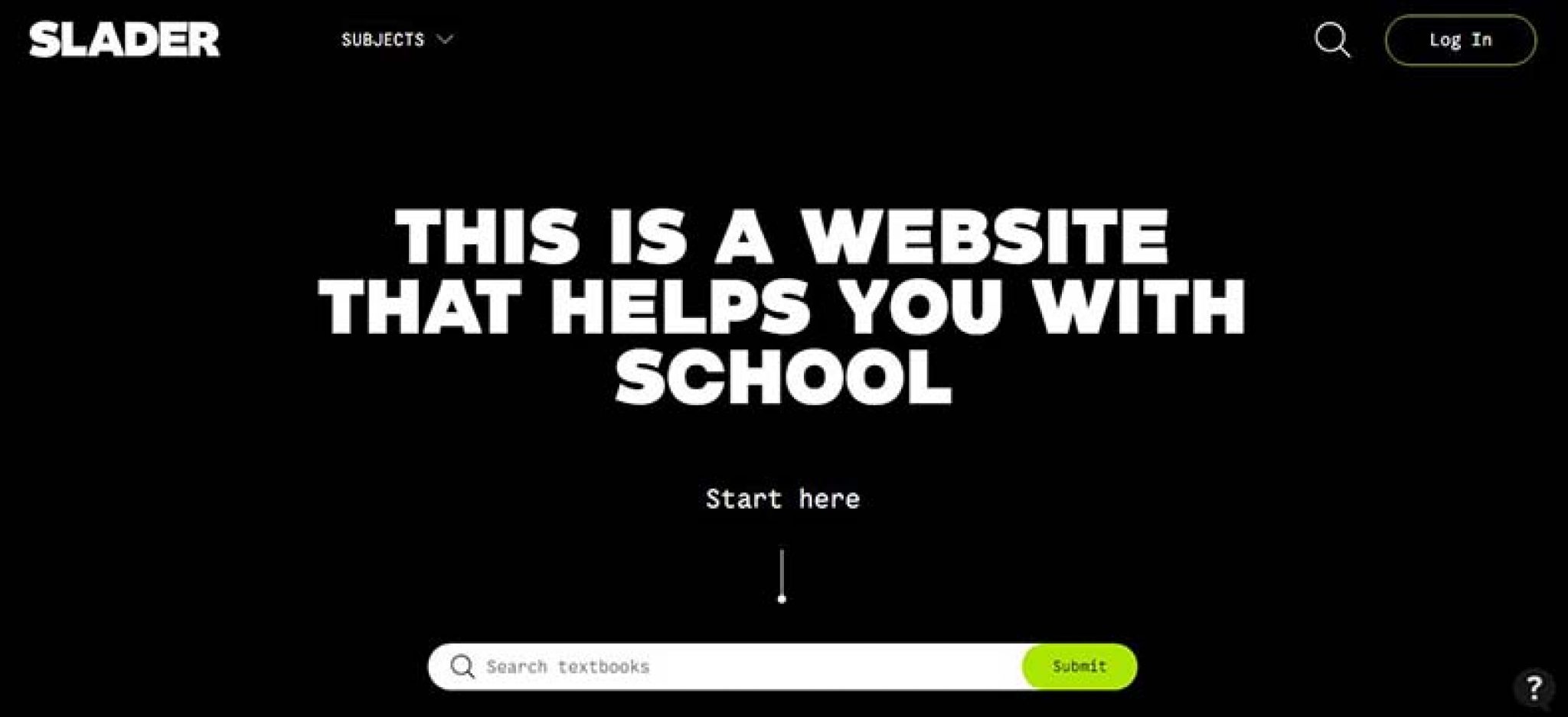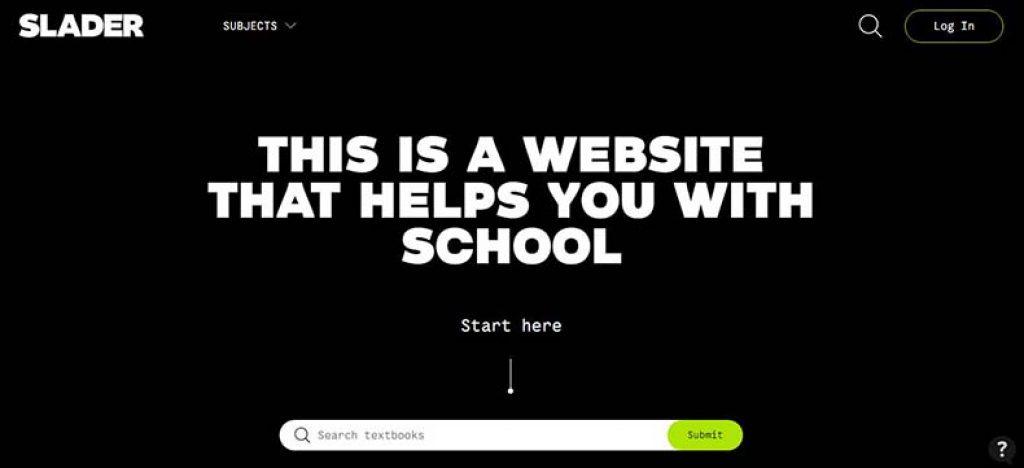 Founded in: 2009
Paid / Unpaid: Partially Unpaid
Slader is a significant alternative to Textsheet and helps middle school and high school, students. A lot of homework solutions and solution books are present on the Sader repository to help students out. These books are free to use and can easily be accessed from any laptop.
Also, the Slader provides the option of general notes as well, so if any user uploads relative notes regarding some specific questions, you can also check them out.
Students can find a variety of solution books on different topics that help them during their study sessions. But there are some drawbacks to using Slader.
One major drawback of using Slader is that not all the answers are verified. As Slader is a free website and anyone can upload the answers and contribute to society, the answers on Slader can be wrong.
Also, if you expect to ask any question on the website, the routine of receiving solutions is slow. Probably you can expect not to receive any solution at all.
As written earlier, Slader is partially unpaid, so college students still need to pay some amounts to get solution books.
College students have to pay almost $6 per month to view the solutions in their textbooks. Those solutions are in a step-by-step procedure that helps the student understand the concepts in detail.
Moreover, the Slader community provides quizzes to the users so that they can check and verify their knowledge about a specific topic. These quizzes are generally in their paid plans.
3. Chegg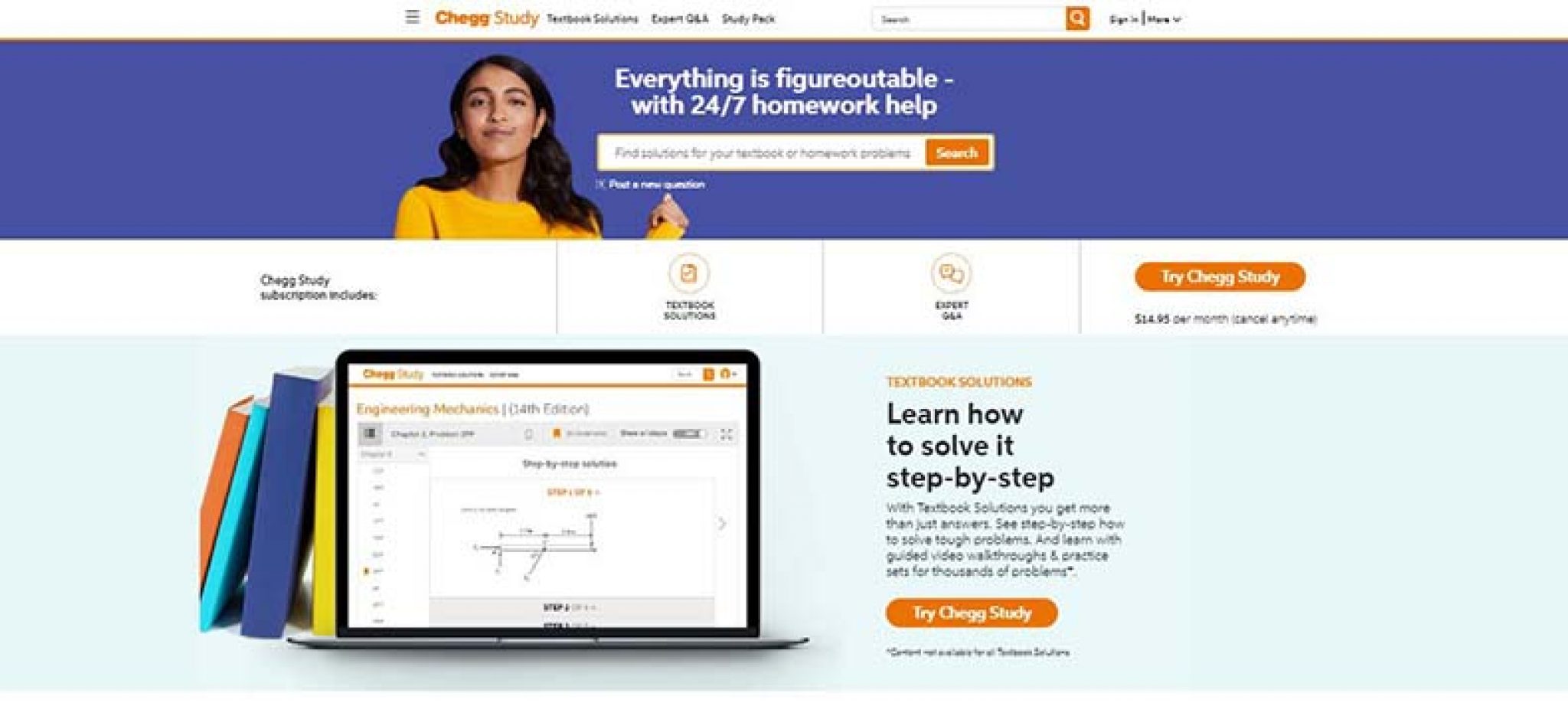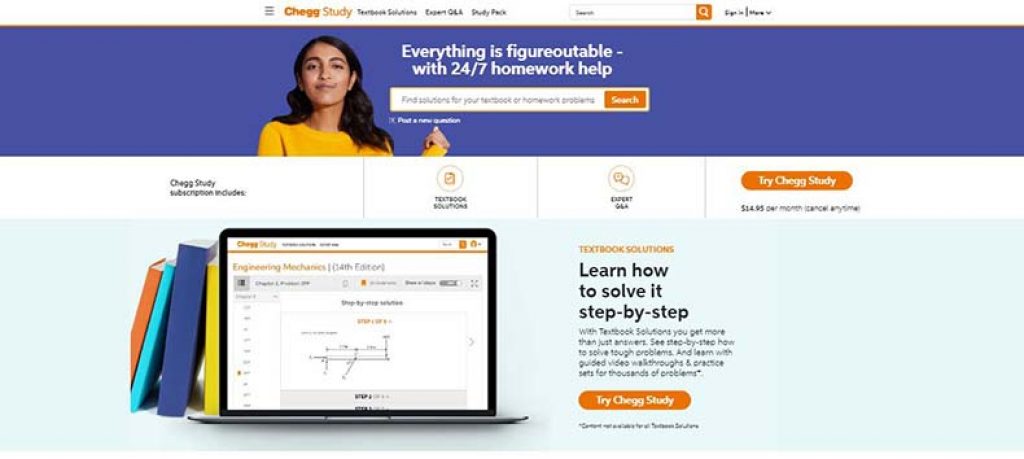 Founded in: 2005
Paid / Unpaid: Paid service
If you were a constant user of Textsheet, then you will love Chegg as an alternative. Chegg was the platform because of which Textsheet was shut down. People say that Chegg has all answers! It is true. Chegg is one of the leading textbook solution providers around the world. It is a big database with a solution to almost every textbook and homework question.
Chegg is not free to use. Users have to pay a registration fee of about $15 per month to avail themselves of the quality services. You can say that spending these $15 per month is worth the price. Chegg has experts who are available 24/7 for the help of students.
According to the new details, Chegg has a solution to more than 10,000 books and millions of homework questions. If you are stuck in some questions, you can instantly take help from the Chegg experts around the world. You only have to take a picture of the problem question and upload it to the Chegg forum.
The first available expert will help you with the task. Usually, it takes an average of 30 mins to get an answer from an expert. Students are happy with the quality services Chegg is providing.
The popularity of Chegg is increasing day by day. Currently, Chegg is ruling the market space by having the most number of students and general users in the US.
Moreover, to attract more and more students, Chegg provides a seven-day trial to its new users. After seven days, it shows the options to select the student packages that suit them the best.
Chegg is easy to use and accessible. It is available on a PC or any mobile phone with an active internet connection. Also, the application for Chegg is now available on iOS and Android stores.
4. PaperHelp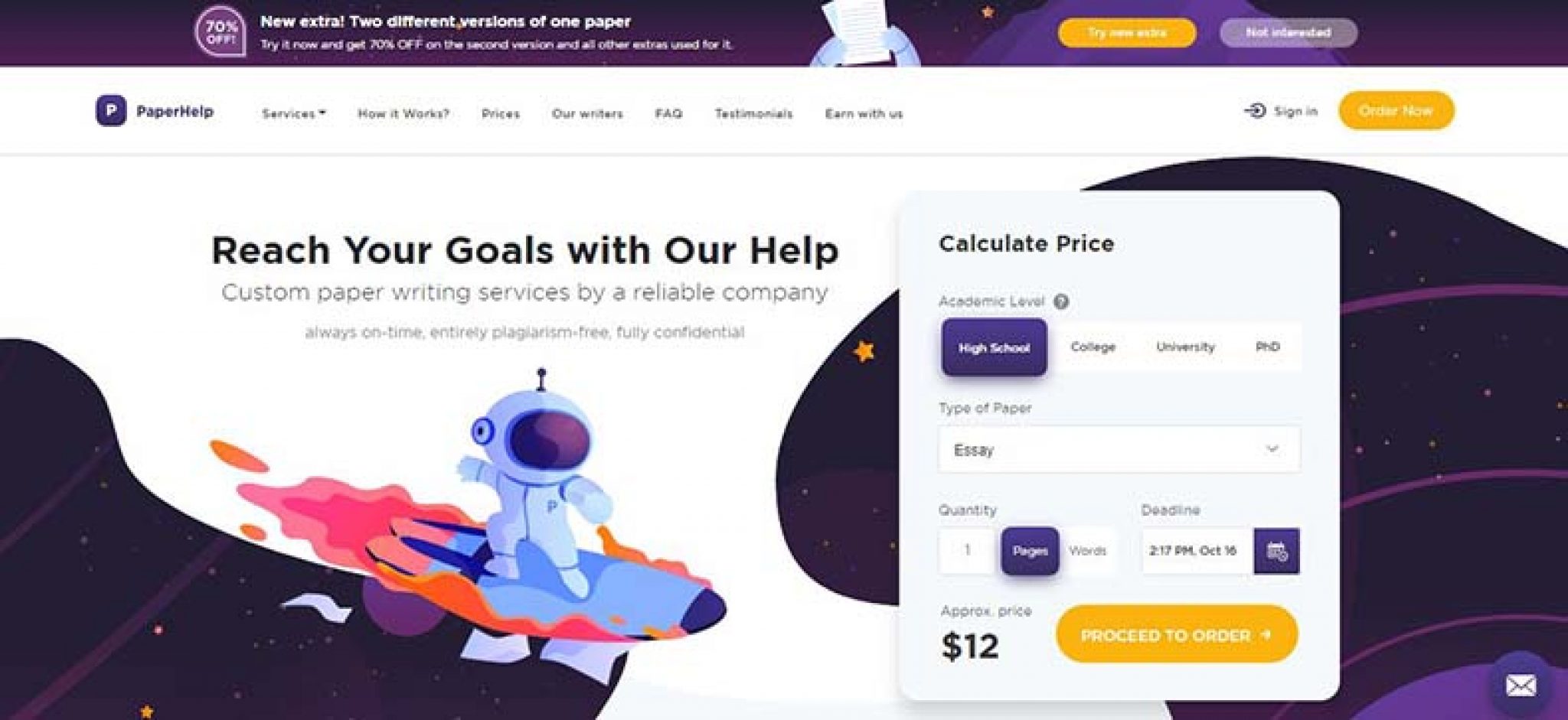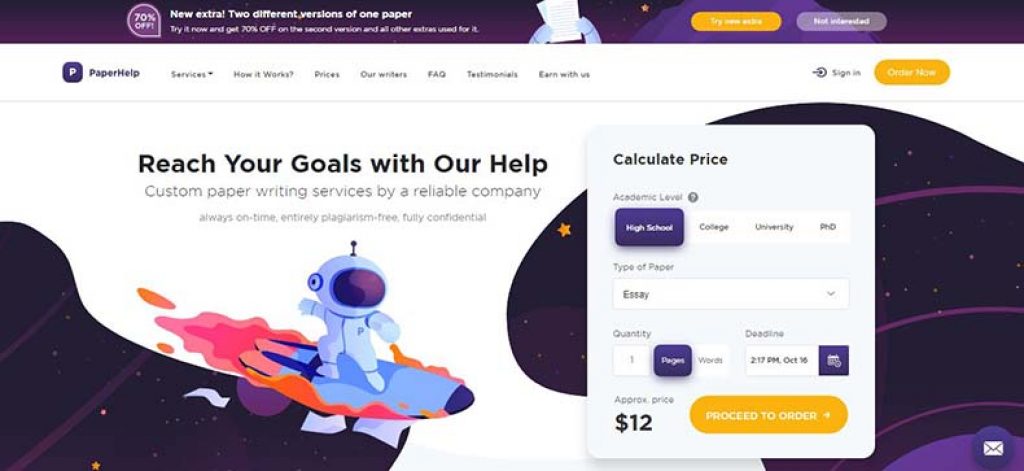 Founded in: 2008
Paid / Unpaid: Paid service
PaperHelp works differently. It helps the students in assignments and paper writing tasks. Generally, Graduate, Post-Graduate, and Ph.D. students around the world use PaperHelp. You can find almost every type of paper on this platform.
They have a big database of research papers. If you think you can excel in research work but do not have enough resources, then PaperHelp is a place for you. It contains research papers on various subjects which can guide the way of senior students.
But the most common use of PaperHelp is in writing long essays and research papers. To avail of the services of PaperHelp, you first need to sign up.
Next, you enter all the essay or research paper requirements. The PaperHelp website will then calculate the cost, time, and other details. After submitting the payment online, you will receive your assignment or paper at a specific time.
Moreover, PaperHelp follows the full refund policy. If you are not satisfied with the work, you can call customer support. They are available 24/7 for help. You can ask them to refund your money by informing them of the exact reason.
Also, you can monitor the progress of your work and can communicate with the assignment writer on the other side. This feature helps make sure you will receive what you are expecting.
5. PlainMath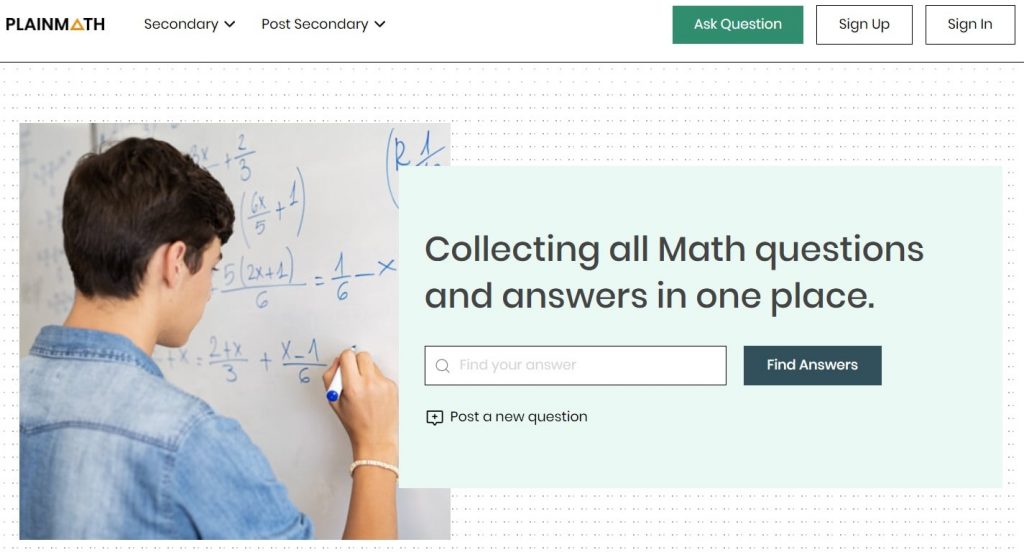 Founded in: 2013
Plainmath was developed in 2013 by Ramandeep Singh, an MBA in finance and financial management services, to assist students in navigating the tangle of tough math challenges.
When it comes to numbers, he is an example and a genuine partner. His wisdom is constantly on the lookout for you.
Plainmath has evolved into a free math encyclopedia. We collect and arrange all unanswered math problems, as well as provide solutions, so that students may learn and understand them. This way we help students in finding answers to their math problems easily.
Our main purpose is to add clarity and accessibility to the educational process. Apart from this, it makes math fun and easy for the students to understand. Just type in your question and allow Plainmath to do its job for you.
We want to create a welcoming environment that encourages students to support one another. This not only promotes understanding but also aids the students to score well and understand a specific topic and equation.
Our platform allows anybody to contribute and share their expertise with other students so that they can benefit others as well as themselves. This Plainmath review will provide you with a better understanding of how our platform operates. It's all about living and learning.
6. CrazyForStudy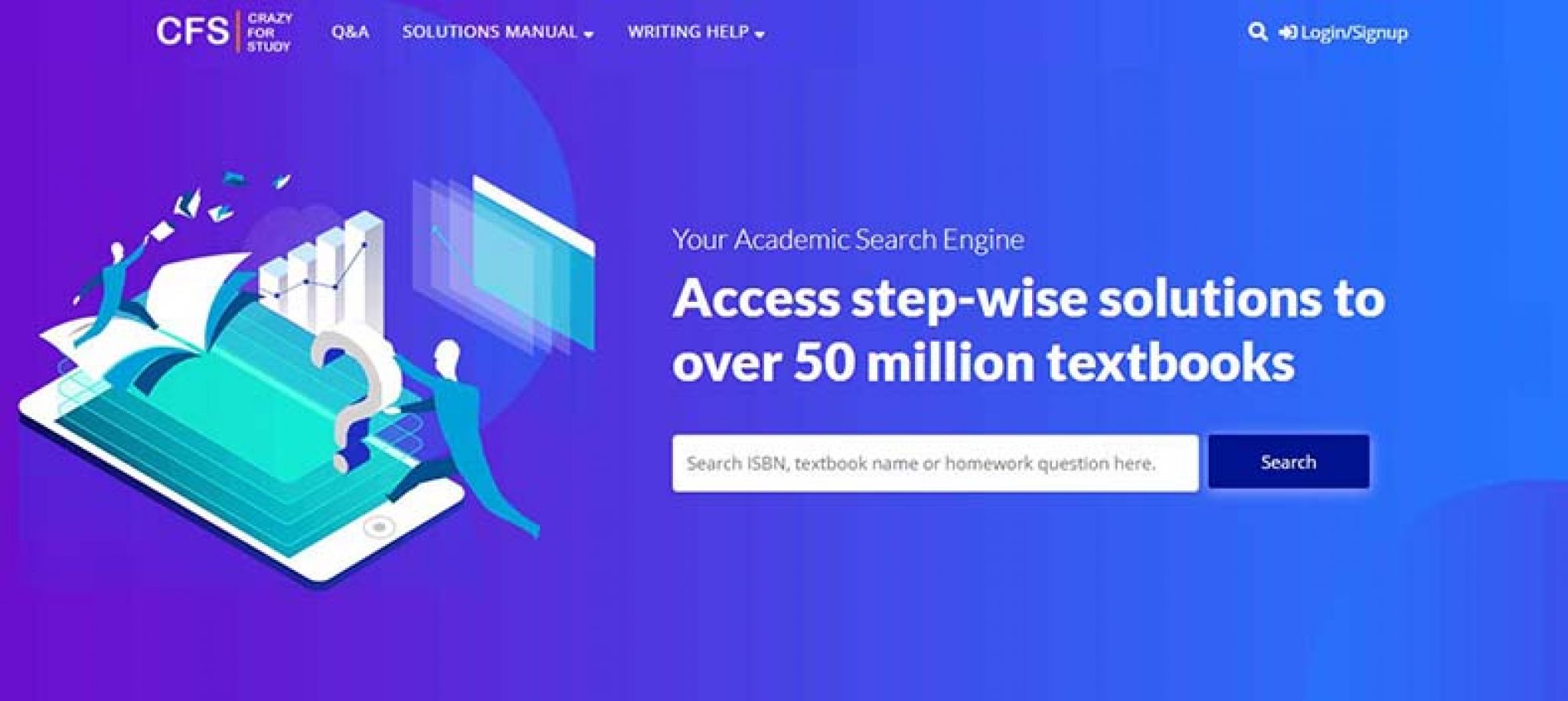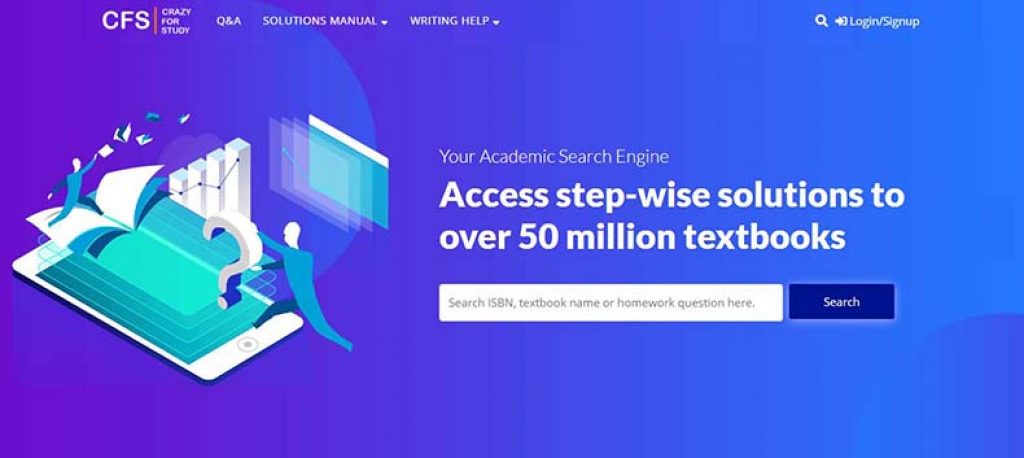 Founded in: 2013
Paid / Unpaid: Paid
CrazyForStudy is another quality platform and a paid service that charges you $7 per month to view the solutions to textbooks and homework questions. So it becomes a very good alternative to the textsheet. CrazyForStudy claims that it has over 50 million textbook solutions.
The website is available 24/7 for the help of students all around the world. They have solution books of all mainstream subjects such as science, math, economics, history, sociology, biology, technology, and many more.
CrazyForStudy provides a step-by-step procedure to solve questions and is quick in its search process. They have professionals in the field who help students with homework and assignments.
They provide 100% plagiarism-free work to their clients in less amount of time.
Moreover, you can only pay 50% of the payment at the start. When you are satisfied with the work, you can then clear the rest of the amounts. Also, they provide promotional offers for new users. First-timers enjoy using the ease to use the website to get help.
In addition to the solution of various textbooks, CrazyForStudy also provides students with preparation tests. It prepares them according to the topic they are searching for the most.
Currently, CrazyForStudy is in use in Australia, but it is planning to expand knowledge worldwide.
7. School Solver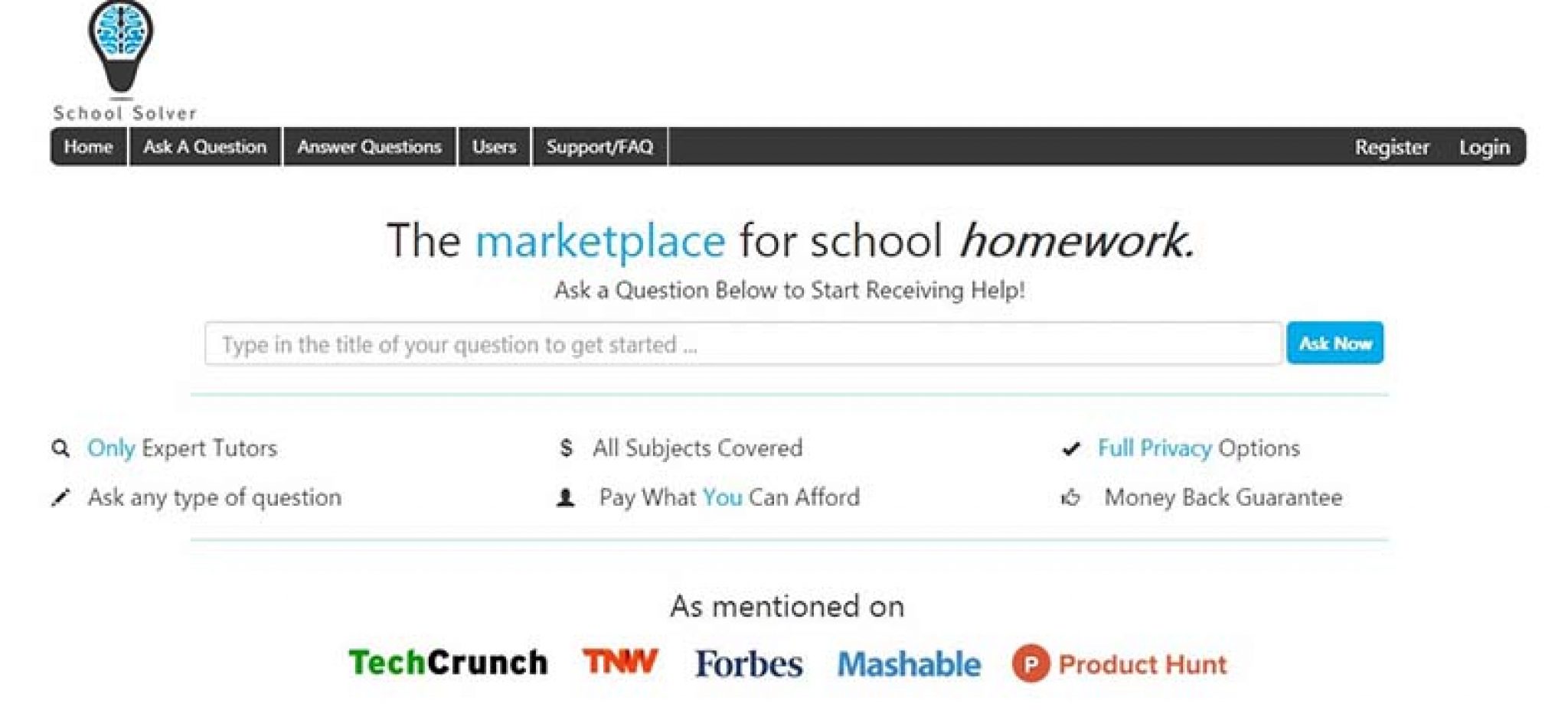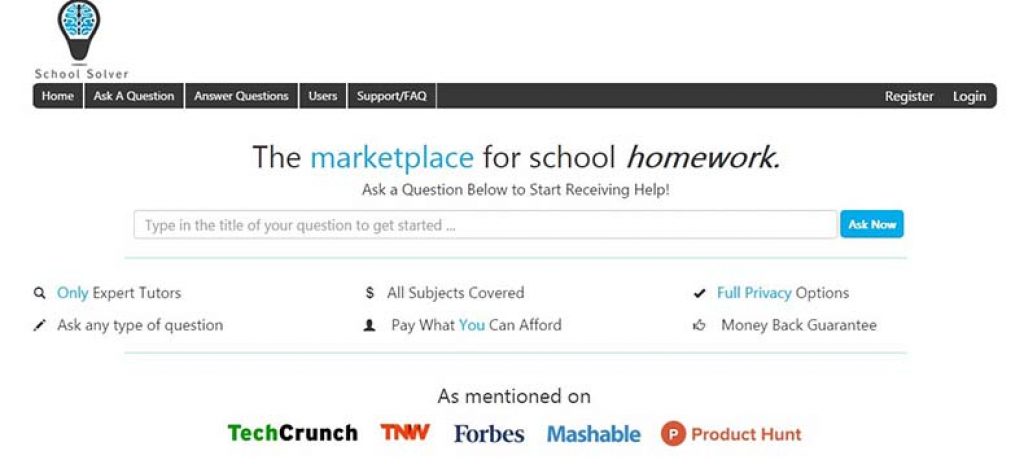 Founded in: 2015
Paid / Unpaid: Partially Unpaid
Another famous alternative for Textsheet is the School Solver. It is a marketplace for students to get help with school assignments, projects, and homework. It provides complete solutions to questions, essays, school assignments, and much more, from which school students can benefit a lot.
Students can ask for a single question or the entire course content from the tutors who are available for help 24/7.
The website is a great source of earnings for tutors. The backend technology helps the tutors to make more than their regular school pay. The tutors can even charge $500 for a single right answer to the question.
There are many tutors on School Solver that can provide you with a quick answer to your questions and a solution to your assignment in pennies.
So, if you do not want to spend a lot of money on Chegg and Course Hero accounts, then this is the right platform for you.
Also, as a school solver, you can ask questions from zero to very advanced levels, and it provides a money-back guarantee if the student does not receive good grades. Moreover, it provides full privacy to the students who are using the school solver account so that students can feel secure.
8. Studylib


Founded in: 2013
Paid / Unpaid: Partially Paid
Studylib is another amazing alternative for TextSheet these days that makes learning easier and faster for the students. The website helps students in a lot of ways regarding their studies. It provides help with homework, research papers, flashcards, term papers, book reports, and much more.
You can even get solved papers and assignments from the Studylib website. Moreover, with Studylib.net, you can even download and save the relevant study material and also share it with your friends.
On Studylib, there are professors from every field, including math, science, history, chemistry, physics, engineering, technology, and much more, which are available for students to help all the time.
Moreover, the homepage of the Studylib website is very interactive. You can find the most downloaded document on the home page.
Also, the site navigation is user-friendly and easy to use. You can easily create an account and use the amazing feature the Studylib website provides to you.
Also, you can add your documents and papers and can apply as a tutor on the website. If you have some documents which can be helpful for the students, you are free to upload them on the website. And anyone in need of those can download them easily.
9. Quizlet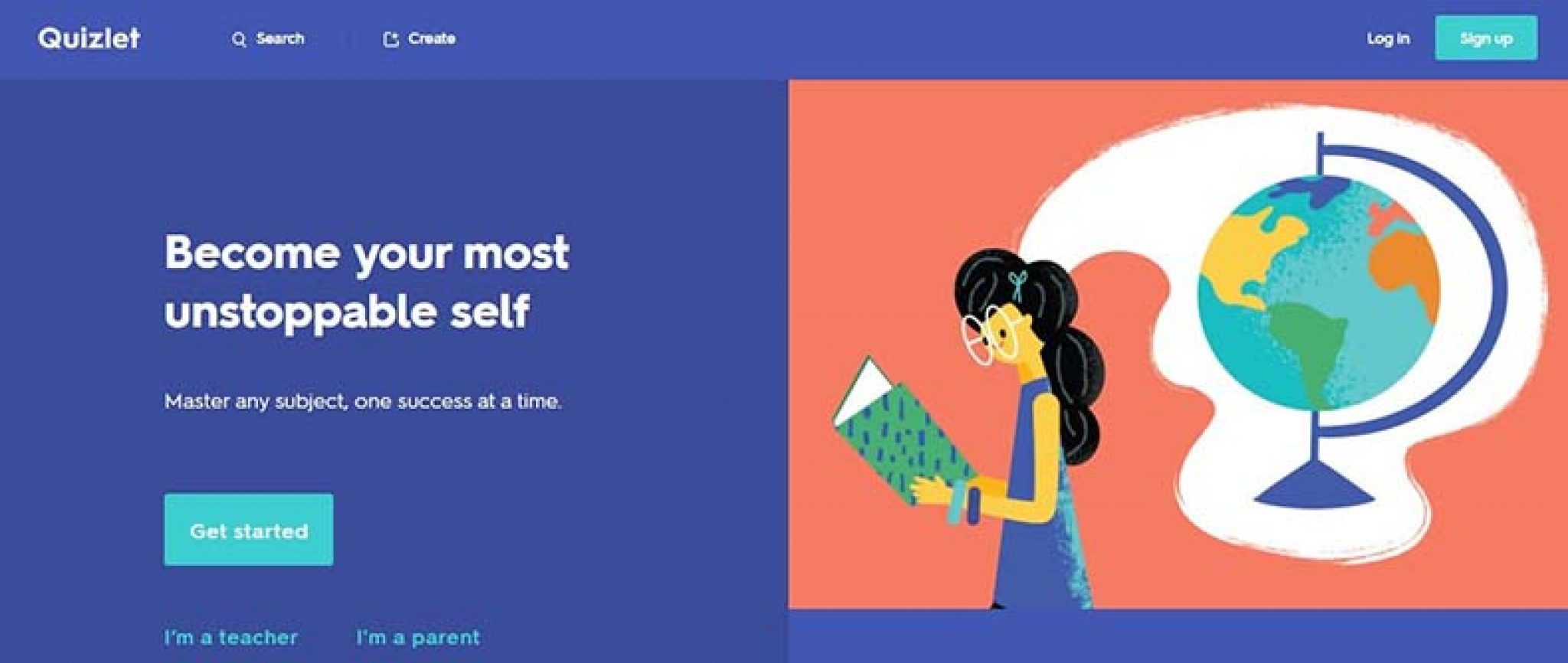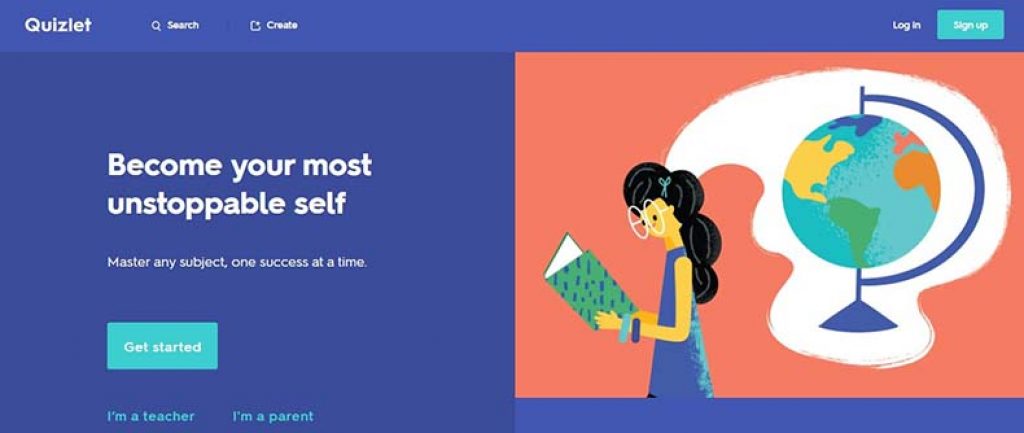 Founded in: 2007
Paid / Unpaid: Partially Paid
Quizlet is a bit different form of a website than the ones discussed above. However, there are more than 50 million active users of this website because of its usefulness. Students from all over the world use this website to practice and train themselves for exams and tests.
It has a database of 300 million study sets, which helps students of almost every field to get knowledge and learn effectively. You can practice and master the study field of your choice at any time.
Moreover, the Quizlet application is available in the Google Play store and Android app store from where students can get access to quick quizzes anytime.
You can enjoy the minimum features of Quizlet in free mode. However, Quizlet Plus is also available for users. You can buy a one-year subscription to Quizlet Plus for $23.88 and a Quizlet Go subscription for $11.99.
With the amazing Quizlet website, students can enhance their learning skills and discover records that can help them unlock new stages of learning. In it, you can create your flashcards and decide on your study sets in a more organized way.
10. Spark Notes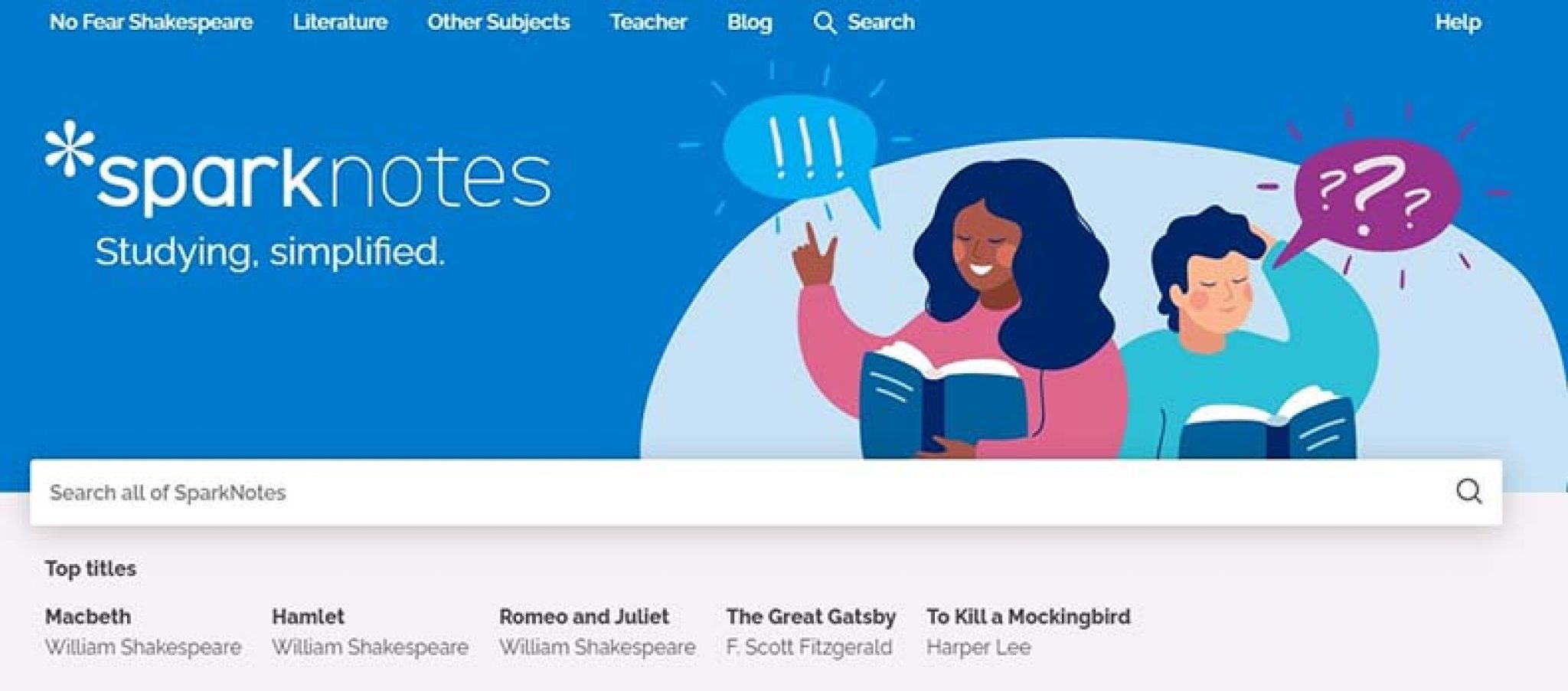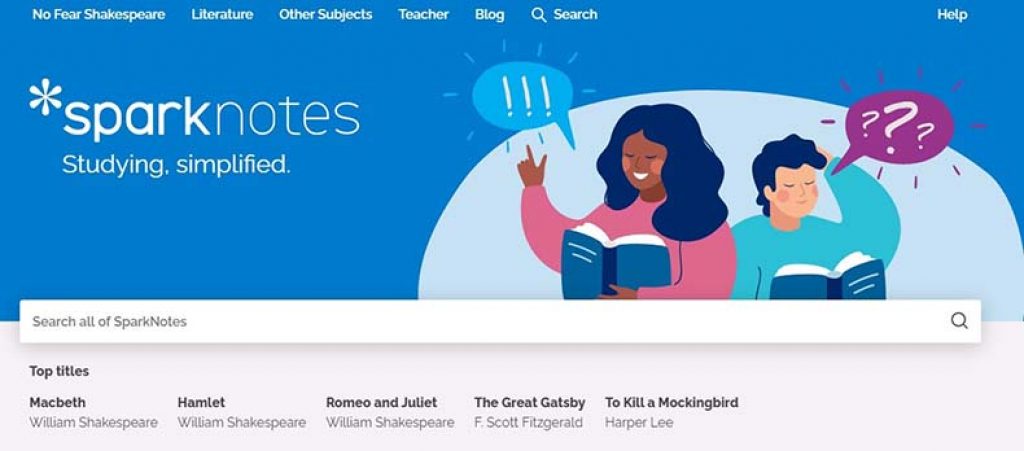 Founded in: 1999
Paid / Unpaid: Paid
SparkNotes is an old website, which was started in 199, and in 2001 it was acquired by Barnes and Noble. It is a popular website among students and is a fine alternative to TextSheets. It has notes of many different fields and courses from which students can benefit to their fullest.
Moreover, like none other, SparkNotes provides the feature to buy books and prepare for the tests. It helps American students to prepare for many standardized tests such as SAT, ACT, GRE, and GAT. Making itself one of the best TextSheet alternative websites in America.
Also, you can easily find the SparkNotes application on Google Play Store and Apple app store to get instant access to homework solutions.
The application is compatible with Android and iOS devices. It is the reason more than 100000 people around the world use SparkNotes to get instant homework solutions and notes.
On SparkNotes, there are summaries of different courses that make learning and understanding the course content easy and fast for students. In short, SparkNotes can be a complete solution for your academic life.
Here are some of the subjects which can commonly be found on SparkNotes.
Biology
Chemistry
Math
Physics
History
Health
11. Paper Help
Founded in: 2013
Paid / Unpaid: Paid
PaperHelp is a comparatively new website in the market. It has been helping students since 2008. However, it is not so old, yet it has captured the attention of many students. Students opt PaperHelp when they get some new and challenging assignments to cover.
It has indeed made the life of many students easy and comfortable, who are worried about writing research papers and reports.
PaperHelp not only helps school students. It is a website that covers the content of college, graduate level, master's level, and even Ph.D. Therefore, students at any level can enjoy effortless learning.
Like other credible websites, PaperHelp secures the privacy and personal information of its users. The credentials of one user are not disclosed to any other party.
On PaperHelp, the prices of professional writing services range from $10 per page to $24 per page. Moreover, you can ask for the research papers to be delivered to your place so that you get rid of the hassle to print them out yourself.
Also, PaperHelp offers a lot of different deals for the students. They can get off 10% or 5% depending on the number of orders they place. For example, students get off of 10% on orders above $1000.
FAQs Of TextSheet
The following are the frequently asked questions by Students about Textsheet Alternatives:
Is Textsheet a Free Service?
Yes! Textsheet was totally free of cost. But their content was stolen. The idea behind it was not good, it did not follow many legal matters completely including copyright infringement.
This made it an excellent platform for students who usually didn't have enough money to spend and for those who were looking to complete their homework and assignments.
Where can I get free Chegg answers?
Free Chegg answers are real. There are many Facebook and telegram groups that provide answers to your Chegg questions. Multiple websites also provide these services. They ask for your name, email, and Chegg's question and will email you the answer. Other sites have the legally unblur question and will provide you with the Chegg answers free of cost.
How do I bypass the Chegg paywall like Textsheet?
Textsheet was an easy bypass to Chegg paywall but now it has gone legally so there is no known Chegg paywall.
How expensive is Chegg as compared to Textsheet?
Currently, Chegg charges an amount of $20 per month from its users.
Can I get a free trial for Chegg Study similar to Textsheet?
You need to sign up to start the four-week trial. Chegg asks for your credit card information before availing of your free trial.
Can you get unlimited questions on Chegg similar to Textsheet?
You get a fixed number of questions but if you run out of the question before the month-end, you can purchase more questions right away. You'll only be able to purchase additional questions if you don't have any questions left to use
Can you get caught using Chegg as well as on Textsheet?
The use of Chegg, an online tutoring platform considered cheating because you are not putting any effort into solving and understanding your work assignment.
Is Course Hero legal?
Course Hero does not tolerate any copyright infringement, plagiarism, or cheating of any kind so it is legal.
Final Thoughts
Textsheet.com offered a wide list of homework and textbook solutions and many students are not happy about the shutdown of this website, but the reality is that most of these solutions and homework answers were stolen from other websites like Chegg and Textsheet administration were eating their cake.
We have made a list of the Best alternatives for Textsheet for students and some of them have that specific content that was illegally published on Texsheet. We are hopeful that these services will improve grades and help you to better understand the subject.