Every day, your employees deal with clients, suppliers, and other stakeholders. As you grow your business, it's paramount to also enhance your business communication system for greater flexibility, scalability, and better business relationships. Hence, you need to set up a reliable business phone system.
Business phone systems nowadays consist of interconnected hardware and software solutions for more productive and convenient business communications. Whether you have a small business, medium-sized enterprise, or a large company or corporation, you need to have a good business phone system. Below are some helpful tips when setting up a business phone system.
1. Determine The Best Features You Need
When setting up a business phone system, it's important to decide on the features to include, depending on the needs of your stakeholders (such as your employees, customers, and investors) and your business. The basic business phone system features you may want to add are call forwarding, conference calling, and multiple lines.
You may also consider newer features to be more competitive and leverage digital technology. Here are some of the new business phone system features you might want to consider:
Ringless voicemail: A ringless voicemail and text marketing software would be helpful for your business, such as Drop Cowboy ringless voicemail and similar programs. You could create messages and deliver them to your business contacts fast and easily.
Video calling: If you have branches in other locations, you may need an advanced phone service for integrated video calling. This feature would allow you to carry out face-to-face interactions through video-enabled desk phones, mobile devices, and soft clients.  
Integration capabilities: Consider a phone system wherein you could integrate customer relations management (CRM) and other applications. By integrating your phone system with your business applications, you could boost productivity and beat inefficiencies in the workplace.
Integrated instant messaging: With this feature, users could see their availability in real-time, promoting a collaboration-reliant business. 
Unified messaging: If you wish to be able to send messages in different formats such as voice mail, fax, and email to one inbox, you could make this possible with unified messaging. This would allow you to manage communication among your employees effectively. 
Voicemail transcription: You could check your voicemails without dialing and entering any access code. The voicemail transcription feature would enable you to receive transcription through an email or text without listening to the audio file. This could be useful for employees who are on fieldwork, for example.
Administrator Portal: You'd have greater administrative control with this feature, handling your communication system without expensive fees. With an admin portal, you could log on at any location and make admin changes like changing the call routing settings or resetting passwords.
Mobility features: Mobile workforce is getting popular as a way of doing business. It's crucial to enable your on-the-go associates to contact clients and fellow employees effectively, like when they're calling from their desk. The different mobility features for phones include the twinning or 'find me' feature, click-to-dial call control, and on-phone corporate directory. With twinning, you could receive calls on your mobile device and transfer calls with the desk phone. You could also place outgoing calls from your mobile device.
Power dialing: This is a time-saving and convenient way of communicating as this would enable you to make more calls in less time. Rather than spending more time dialing contacts, you could increase the number of calls you make by getting programs like the Power dialer software or similar software. 
Group directory: Users could search your business directory from the phone's handset. They'd be able to find internal contacts and dial their extensions fast and easily to boost efficiency. A unified communication system would allow you to integrate instant messaging (IM) to escalate IM chat to phone call.
2. Determine Your Business Telephone System Options
Telephone systems could be hosted (cloud based) and nonhosted (hosted within the office). The different telephone systems for business include Voice over Internet Protocol (VoIP), private branch exchange (PBX), as well as key system units (KSUs). Here's how they differ:
KSUs: These systems consist of multiple lines that are capable of supporting a few dozen handsets. Small businesses could greatly benefit from using KSUs because they're easy to use, flexible, and portable. Because of the limited number of phone lines, KSUs are suitable for start-up small businesses that don't have intentions of extending their workforce soon.
PBX: Compared with KSU, PBX comes with more features, utilizing programmable switching devices. You could route incoming calls automatically, and it could function even with a power outage. Businesses with more than 40 employees could efficiently and effectively operate using PBX because of its advanced features without worrying about the cost of installation and maintenance.
VoIP: This advanced telephone system would allow clients and phone operators to communicate regardless of geographical locations. This system work using computers and the internet. VoIP may be expensive, but it could handle more employees in multiple calls. Your service provider could host your main telephone system. Therefore, you don't have to worry about installation and maintenance, unlike with PBX.
3. Know The General Steps
If you're setting up VoIP, it's important to know the key steps. In this way, you'd be able to assist your team in using such system. The general steps include the following:
Log on to the admin dashboard. Use the admin portal to determine how your team could interact with the virtual phone system.
Design and implement a schedule. Set your business hours on the system, including holidays and nonworking days. While this involves manual data entry, it automates turning off auto attendants and call forwarding during off days.
Configure. Voicemail and team extension configuration would allow you to set up a more organized system based on your business needs. Grouping extensions would provide you control of your extensions and eliminate the need for having an expansive contact list. Proper configuration would enable your team to access their voice mailbox and voicemail greetings using desktop and mobile apps.
Design call flows. Try to design a call flow your agents or employees could use to boost client retention and build customer loyalty. When designing a call flow, it's important to determine what type of calls may be taken by humans and those to be handled by an auto-attendant or interactive voice response. You'd want to design a call flow that could help reduce transfers and return calls.
Enable advanced features. You may enable advanced call recording and auto attendance in your VoIP system. You could distribute calls to answer all customers who are willing to wait on the line when queueing.
Forward calls to your business phone number. Ask your previous provider to forward all incoming calls to your new service provider (one offering VoIP), which includes your local or toll-free numbers. Check portability for vanity numbers.
Create custom greetings. You could create custom greetings for your auto attendant and choose hold music. You might want to turn on call recording to store phone calls for a certain number of months for quality assurance and training purposes.
4. Ensure Call Security
A phone system is still one of the most important business tools even with the availability of digital communication methods. The top security threats that business phone systems could be at risk of include malware, war dialing, toll fraud, and call interception.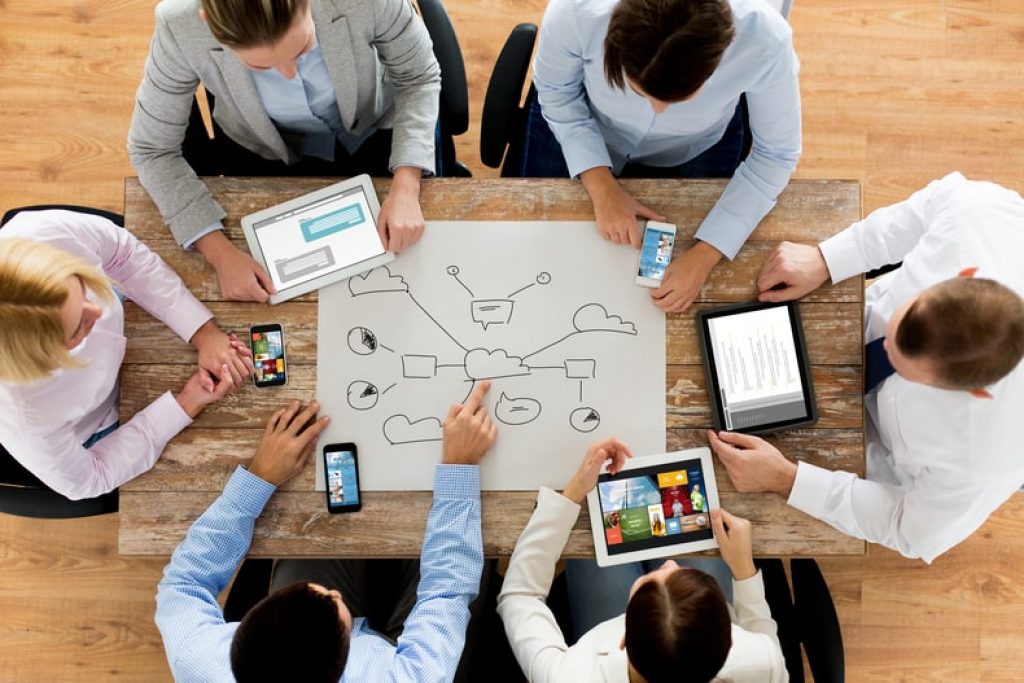 Malware is a piece of software maliciously designed to cause damage to a computer, server, client, or network. War dialing is a type of attack that would control your PBX, dialing phone numbers to connect to modems and extensions. Toll fraudsters, on the other hand, would dial international numbers, which cause expensive toll charges. And call interception means patching into phone calls ongoing on the target phone in real time.
Due to these risks and many others, it's important to choose a secure service provider for your phone system. Consider the following tips for ensuring security:
Check accreditations. Choose a provider that's compliant with industry standards like the Payment Card Industry Data Security Standard and in accordance with the Health Insurance Portability and Accountability Act. This could give you an assurance that you're dealing with a trustworthy provider.
Ensure call encryption. Establish strict security in all calls by including a call encryption feature. High-grade security VoIP protocols include Secure Real-Time Transport Protocol and Transport Layer Security.
Set up a virtual private network (VPN) for remote employees. This is highly recommended than public networks for greater security.
Review call logs. Do this regularly to observe any unusual calling behavior or trends using a call analytics feature. Ask your employees to report strange calls, ghost calls, missing voicemails, and similar issues.
Mobile devices are also part of your business phone system. But how do you ensure the security of your mobile device as well? Here are some tips:
Keep your phone locked.
Install antivirus software.
Set a secure password.
Keep your device's operating system up to date.
Encrypt data.
Only connect to secure WiFi.
5. Consider Real-Time Analytics And Reporting
Try to look for a business phone system with robust and real-time analytics and reporting so you could manage your calls and align them with your business results. Investing in a virtual phone system or integrating your CRM into your business phone system would make data accessible and easy. It would enhance your performance reviews without manually tracking time on the phones.
Here are the top benefits of considering real-time analytics and reporting:
You could learn more about your callers: Combine your CRM and business phone system to automatically show the location, call history, and other relevant details of your customers before your agents answer the phone. 
It ensures better call management: A modern phone system may provide web-based access so you could extract information easily, such as queue status and call log details. With this, you could remain on top of call volume and other call metrics in real-time.
It can improve customer service: A cloud-based phone system could improve your business communications. With real-time analytics and reporting, you can promote more informed staffing and training decisions for excellent call quality and efficiency. It makes a pleasant customer experience over the phone.
It promotes better collaboration. Your team could create better call strategies such as applicable scripts based on the types of callers you frequently receive. 
6. Create A Checklist
With a broad range of business phone system options available, it could be overwhelming to choose what system is best for you. Therefore, creating a checklist may come in handy. Besides the ones already mentioned, it may be helpful to consider the following aspects:
Setup: Can you set up the phone by yourself, or do you need a professional installer? Is it possible to set it up without impacting your routine business operations?
Reliability: Find a provider that could offer 99.99% uptime. Ask about their history of downtime and how they manage it.
Hardware: Are the VoIP phones ready to use? Is the manufacturer reputable?
Cost: This important factor includes any one-time charges, monthly fees, and add-ons. You could save time by getting a personalized quote for your business phone service.
Support: What are the ways you could get support or help from the provider? Does support involve additional cost?
7. Meet Your Team
Before you set up a business phone system, it's vital to brainstorm your team. Assess your current business phone system if you already have one and decide what upgrade solution you would need.
Here are the advantages of meeting your team before choosing and setting up a phone system for your business:
Improves productivity: Hear your employees' voice to motivate better work performance and boost efficiency. Listen to the insights and recommendations of your frontline workers or the employees who handle calls. In this way, you could make a more informed business decision when it comes to your business communications.
Promotes better collaboration: Working with your team encourages better collaboration because of the unlimited flow of ideas and suggestions that could help you decide on the best business communication solutions for you. Meeting your team would give you the opportunity to gauge the best people to handle key business phone tasks and responsibilities.
Improves customer service. If your employees are happy, it would also reflect on the kind of service they provide. Listening to your employees would help boost their morale so they could deal with your customers effectively and confidently.
Conclusion
Setting up a business phone system involves determining the best tools, platforms, features, and benefits. They should align with your business to meet your communication, sales, and marketing goals.
There's no exact communication solution for all businesses since there are many factors that could influence the type of phone system an organization needs. You may start with a basic phone system. If you want to grow your business sooner, it may be wise to set up a scalable business phone system.