Filmora video editor is free software that gives you a built-in editing studio. You can inscribe your illustrations with the help of unlimited editing tools. It's an all-in-one platform providing visual graphics, sound effects, and animations. You can create your captivating pictorial animations with the green-screen feature. You can transform your simple video into a professional one without using tons of editing apps separately. The worth-mentioning features of the Filmora video editor are 4K editing, noise removal, video stabilization, and color tuning.  You can install Filmora video editor for mac and Filmora video editor windows following this assisting guide.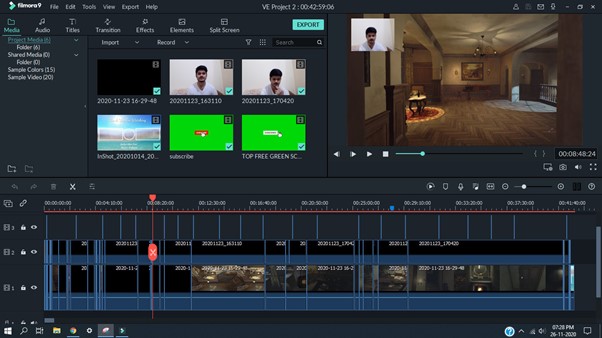 STEP 1: DOWNLOAD FILMORA VIDEO EDITOR FOR MAC/WINDOWS
Filmora has two versions, Filmora video editor for window 7 or later (64 bit) and Filmora video editor for macOS 10.12 or later. First of all, search for Filmora video editor on any search engine such as chrome or safari. Once you open the first link, you will see a download file named [Filmora Installer.dmg] on your chrome. Press the download button and the online free video editor will start downloading.
While searching on Safari and Firefox, you will see an arrow on the top and after clicking it, the zip file will start downloading.
STEP 2: INSTALL THE SOFTWARE
Once the video editor file [Filmora Installer.dmg] is downloaded, open it and allow the installer to install it into your PC. Then you will see an "install" button. After clicking on it, the program will ask for your permission to install the best video editor. Select the "ok" button and wait for the software to install.
STEP 3: PURCHASE A PACKAGE
Although, Filmora video editor is free to use some of the features are restricted to the paid version. You can create a video, edit it, and add sound or graphical effects to it. But when you will download the file or export it, it must have a watermark on it. To avoid that watermark, you will have to purchase a package.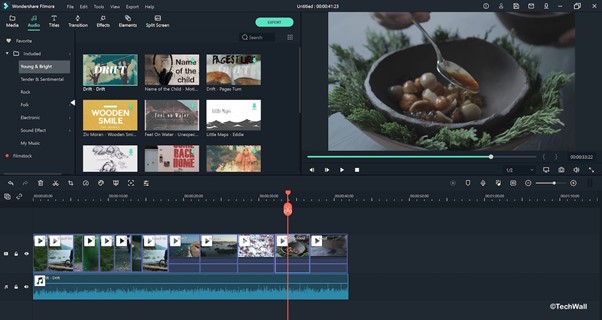 STEP 4: REGISTER
Once you purchase a package, you need to register yourself on the Filmora ID. This video editor has various packages keeping in view the need of the users.
1. Individual Plan
The individual plan has three packages; monthly, annually, and a perpetual package. By taking any of the plans, you can avoid watermark and the subscription can be canceled at any time. These packages are available at suitable prices. Along with other features, one will also have free tech support for 24 hours.
2. Team & Business Plan
Team and business plans are available at reasonable prices. Special annual packages are available for teams of up to 5 users. For businesses, there is no specific limit of users and the prices for the annual business plans are adjusted according to the number of users.
3. Educational Plan
Student plans of this online free video editor are worth-mentioning. These packages are specially designed for students, and so are affordable. There are monthly, annual, and perpetual plans for students. There is also a plan for educators with a student limit of more than 20 and the prices are adjusted accordingly with a special student discount
4. Special Bundles
Special bundles with huge discounts are also available in an affordable range. These annual bundles can be adjusted according to the requirements and number of users.
STEP 5: LOGIN OR CREATE A NEW ACCOUNT ON WONDERSHARE ID
After running the software, create a new account on the WONDERSHARE ID. Click on the login button if you already have an account, but if not, and then go for create a new account and give your email address and select a password that will be confidential.
STEP 6: UPDATE FILMORA VIDEO EDITOR
Wondershare Filmora video editor updates after every while. Go to wondershare Filmora and check if there is an update. Download that update and enjoy the latest version of the video editor for windows.
Video editor for mac has a different method to install the update. After you are done downloading the latest version on the product page, install it from here and replace it with the previous version of this software. This action will not change the setting of the previous registration.
STEP 7: UNINSTALL THE FILMORA VIDEO EDITOR
If there is a need to uninstall the software, go to applications and find wonder share Filmora. Right-click on it and move it to trash. The software will be uninstalled.
Filmora is the choice of young designers and it has a special place in digital media. The software can be used for almost all types of design. It has a user-friendly interface that one can use and take benefit from it according to his level of creativity. One can become a pro video editor using this online free video editing software, as Filmora takes editing to a next level. 
Conclusion
Filmora video editor is the best video editor for beginners as it is user-friendly and ideal for beginners. You can find almost every type of designing and editing tool in this one software. The more your dive into it the more complex it becomes. Once you start learning, there are no boundaries to explore more creative illustrations. This software is free for beginners and no one should miss this opportunity to become a commendable content creator. The opportunities are countless and using this one software, you can edit, add graphics and sound effects, and a lot more.