Cable TV and satellite connection providers have increased their prices and People are not liking this price increment. To tackle this monopoly, many new companies have jumped into this competition. Hulu + Live TV and AT&T TV now, are the already existing competitors of YouTube TV but YouTube TV Channels List is a moderate package overall.
What is YouTube TV, and How you can use it?
YouTube TV is a Live TV and movie streaming service from YouTube. It includes a variety of area broadcasting channels, shows from Youtube-Originals(YouTube RED), and local cable channels. You can use it on any smart tv, casting devices/boxes, cell phones, and computers. YouTube has an easy and clean user interface and this TV service from YouTube uses the same user interface. It's user-friendly, clean, and easy to use.
You have to buy a subscription to YouTube TV channels to start watching it. You will get 7 days of the free trial if you are a new user. Once the 7 days will be completed, your first month of subscription will start.
YouTube streaming is one of The Best streaming services on the internet and they will surely satisfy us in TV streaming services. YouTube says their TV services available across the United States but, we still find it missing at certain places in the US. They asked for the Zip-Code at the start to check your area availability & we were unable to find certain zip codes.
Youtube TV Cost/ Price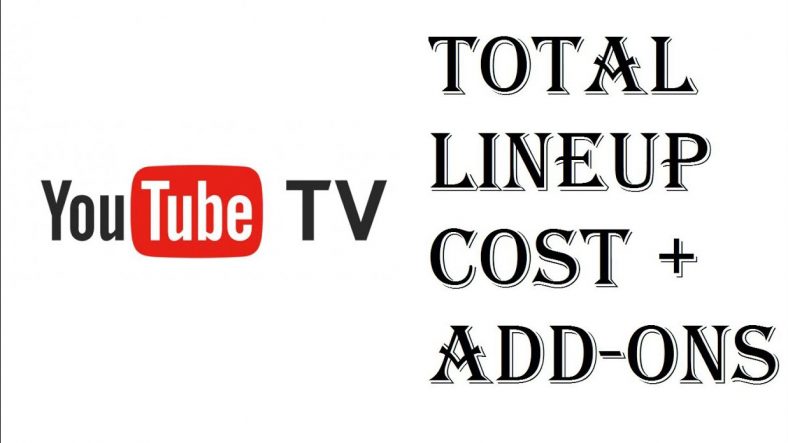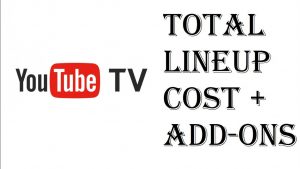 YouTube TV Cost for Live TV services is $50/month. Apple users will have to pay $55/mo. and this addition is the result of the Apple-tax. Google is the first company to apply Apple-tax on the user-end. There are a few optional channels and you have to pay more for them. A pre-selected package for optional channels isn't available yet like the other TV services.
 It's expensive than the competition is offering but you will get the clean and easy-to-use YouTube Interface in return.
When YouTube announced this service, they were charging $40 and $45 for Apple. Now although they have added some extra channels, they also have increased their prices. Hulu + Live TV is providing dozens of channels for $45/mo while AT&T TV Now is providing two packages of $45 and $75 per month.
Youtube TV Zip Code
YouTube TV sign-in requires the zip code of your area. You can use VPN services for the available areas. Only premium VPN services allow you to choose a certain area. Then you can enter the area zip code to check the availability of Youtube TV in that area. YouTube TV allows up to 60 US channels. Youtube TV is limited to certain areas and they accept a few zip codes for YouTube TV. They asked for the Zip-Code at the start to check your area availability & we were unable to find certain zip codes.
1. You can find your Zip Code from zip-codes.com
2. Click the following button 'Find Zip Codes of a City'
3. Choose a city and state for your local cable channel
4.  Pick one of the generated zip code
5. Enter this into YouTube TV and Enjoy!!
Is there any free Trail?
Yes, you will get a free trial of 7 days if you sign up for YouTube TV. Your Google account should not be used before to get this free trial. After 7 days your paid month will start.
Supported TV Devices
You can stream YouTube TV on up to 6 devices and supports a wide range of devices. We have discussed some devices below.
Following are the list of supported devices:
Android TV

Samsung Smart TV

Ruko Smart TV

Xbox ONE

Google Chromecast

Smart Streaming Devices, PC's and Smartphones
Can I watch YouTube TV on Amazon Firestick?
No! Due to the tech race between Amazon and Google, Google didn't support YouTube live tv app for Amazon firestick. Officially you can't watch the TV services of YouTube on Amazon Firestick but there are ways to install the apk of the YouTube TV app on Amazon firestick.
Can I watch Youtube TV Channels from Abroad (Outside of the US)?
Yes! You can Watch Youtube TV Channels if you live abroad or traveling outside the United States. For this to happen, you need a good VPN. Speaking of which, NordVPN is a stellar VPN service with positive reviews. It's just what you need to bypass geo-restriction and protect your privacy. 
Follow the following steps to access YouTube TV Channels with VPN:
Sign Up for your VPN service.

Install a VPN on your device. Most of the VPN's offer their services for Windows, Mac OS, Android, and iOS, So make sure to choose the right one.

Log in to the VPN application.

Connect to a US server.

If you don't have a YouTube TV Account, You should require a payment method that is linked to a US address.

Clear the Cache and cookies of your browser.

Start Watching Youtube TV Channels.
Is YouTube TV Ruko Supported?
Yes, you can watch YouTube TV on Ruko TV and Ruko streaming devices. You have to install the YouTube live tv app on your Ruko device. 
Ruko enables you to watch free and paid content online. It eliminates the need for cable and satellite TV. Ruko offers two streaming devices. One is Ruko express device and the other is the Ruko Ultra device. Ruko ultra is expensive than the express model and has more features than the express device of Ruko TV. 
It is a direct competitor of other tv boxes and satellite devices.
How YouTube TV Sign-in works?
 YouTube TV sign-in requires the zip code of your area the first time. If YouTube is providing its TV services in their area then you can further proceed for the membership. So, you can check your area by going to tv.youtube.com and you can easily use your Google account for this purpose. We have made a step by step guide which shows how to sign in to YouTube TV.
Sign in to YouTube TV using tv.youtube.com/start Enter Code
If you want to sign in to YouTube TV, Follow these steps:

Open YouTube TV Application on your TV set.

A code should display saying "visit tv.youtube.com/start enter code".

Visit

tv.youtube.com/start

on Any other Computer or Mobile Phone Device.

Enter the Display code showing on your tv screen at

tv.youtube.com/start

.

Select Google Account associated with YouTube TV Membership.

A pop-up will appear, Click Allow to start using your YouTube TV Services.
Follow these steps, carefully enter your code and you should face no more issues.
YouTube TV Channels List
Youtube is offering a good number of TV Channels list. Find out the list below: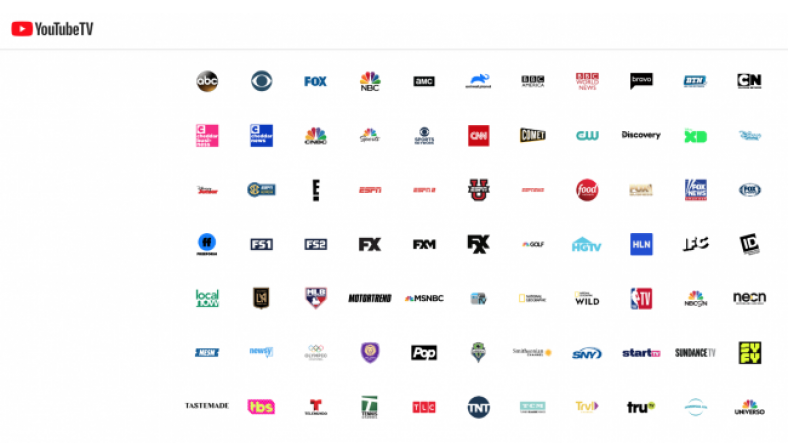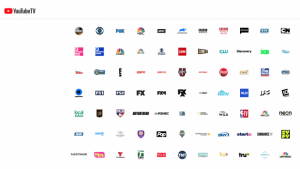 ABC

Animal Planet

AMC

BBC NEWS

BBC America

Big Ten Network

Big News

BTN

BRAVO

CBS

CBS Sports Network

CARTOON NETWORK

CHILLER

Cheddar

CNBC

CNN

Comet

Comcast RSN

Disney XD

Disney Junior

Disney Channel

Discovery Channel

ESPN 1

ESPN 2

E!

ESPNU

ESP News

FOX Business

FOX News

FOX RSN

FOX

FX

FXM

FXX

FS1

FS2

Freedom

Golf Channel

HLN

IFC

LA Football Club

MLB Network

MotorTrend

My Network TV

MSNBC

Nat Geo

Nat Geo Wild

NBC

NBA TV

NBCSN

NESN

NECN

Newsy

Oxygen

Olympic Channel

Orlando City Soccer Club

POP

Seattle Sounders FC

SEC Network

Smithsonian Channel

SNY

Sundance TV Channel

SyFy

TCM

TBS

Tastemade

Tennis Channel

TLC

Telemundo

The CW

Travel Channel

True TV

TYT

Universal Kids

Universal Channel

Universo

USA

WE TV

YouTube RED Originals

YES Network
Dark Mode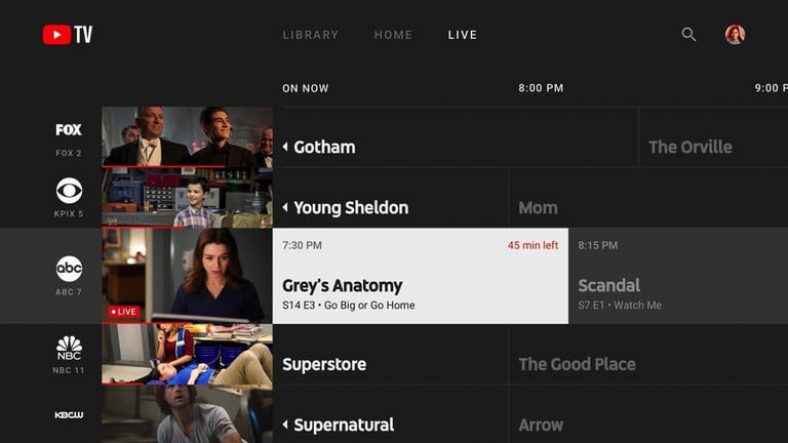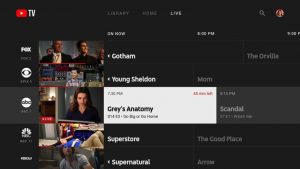 You can use the dark mode in the TV app of Youtube if you want. But you must have to enable it from the settings. It's an on-demand feature on the computer. Other devices like Apple TV uses a dark theme by default.
To enable the dark mode, click on the profile icon and then on the dark themes.
Kid-Friendly Application
If you don't want your kids to watch adult or specific content, then you can use the filter made by youtube. 
To enable the Kids filter, click on your profile icon > Settings > Filter.